Mariners Mini Morsels: December 7
|
From CBS: Robinson Cano agreed to a historic ten-year, $240 million contract with the Mariners on Friday, and it didn't take long for a camera to catch him wearing his new team's hat. Here is the second baseman at a winter ball game in the Dominican Republic on Friday night: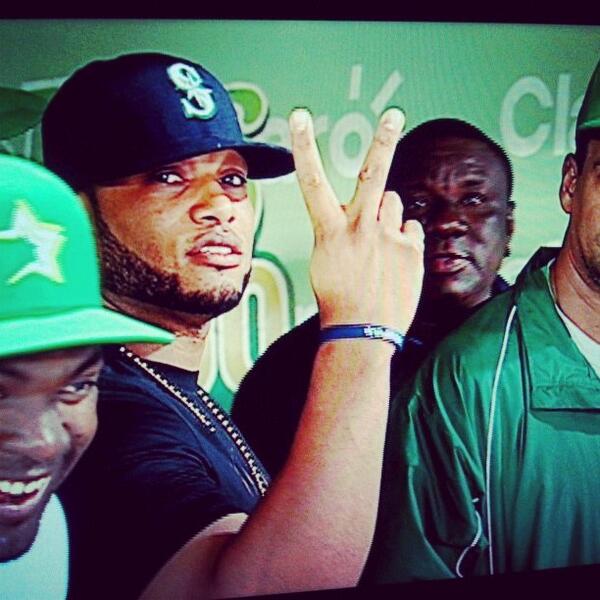 This free-agent class, like last year's, is short on superstars, but it still felt odd that the small- and medium-market clubs that had suddenly received a huge windfall of cash seemed content to stick the money under their mattresses, rather than spending it on good players who could help win games. Credit the Mariners for finally getting it.
Per WAR, only Miguel Cabrera has produced more value for his team than Cano has over the past four years. During that span, Cano has hit .312/.373/.533. He produces a total offensive contribution 48 percent better than a league-average hitter. 
He's also one of the league's best glove men at second base, which should make the Mariners' top two starters, Felix Hernandez (51.4 percent ground ball rate) and Hisashi Iwakuma (48.7 percent ground ball rate), very happy.
Even if the Mariners are moderately overpaying Cano from a strict dollars-per-WAR calculation, they're loaded with young, cheap players and had more financial flexibility than almost any other team to take a plunge like this. Money management aside, the Yankees could certainly end up regretting letting Cano walk. They have many holes left to fill, the free-agent market is starting to dry up, and the competition in the AL East will again be fierce. And now, their best player is gone. Source:  Jonah Keri at Grantland  (Read Jonah's full article, which is excellent, here.)
AL West Commentary
The Astros' bullpen took 40 losses last season, a single-season major league record for any team's bullpen. The 85 home runs allowed stands tied for the fourth-most all-time, and rate of 1.43 home runs per nine innings is in the top-10 all-time. Source: Evan Drellich at the Houston Chronicle
Mariners' potential off-season targets
Dave Stewart says in his 10 years as a player agent, he has never gone to baseball's winter meetings. But he plans to be in Orlando next week. Why? Because Stewart represents Los Angeles Dodgers outfielder Matt Kemp, he has heard all the trade talk swirling around his celebrated client, some of that speculation involving the Boston Red Sox, and he has a "strong feeling something could happen" at the meetings.
"This is the first time we've experienced this," Stewart said. "This is the first time we've heard it this much, and the first time we really believe something could happen." Kemp would undoubtedly be untouchable if he had stayed healthy, but the past two seasons have been cut short by injuries, with Kemp having surgery on his left (non-throwing) shoulder after each of the last two seasons, and also undergoing surgery on his left ankle in October, 13 days after his second shoulder surgery. Stewart said that Kemp just recently began weight-bearing exercises on the ankle, will start hitting in January, and expects to be ready for the start of spring training.
"There have been a lot of questions about his health, but he'll be ready to play," Stewart said. "He's worked hard to get in shape and get over these offseason surgeries." Kemp has six years and $128 million left on his contract. Sources on both sides of the Ellsbury negotiations said the Sox had indicated a willingness to go to six years, but for less than $120 million. Kemp, at 29, is a year younger than Ellsbury, and if the Dodgers were willing to eat some of his salary — how much would depend on what they got back in players in return — the Sox would be in position to add a dynamic, right-handed-hitting All-Star. One hypothetical trade scenario to consider: If the Dodgers were to chip in $32 million of the $128 million owed to Kemp, he would cost the Red Sox $16 million per season, seemingly well within range of what they were willing to pay Ellsbury. Source: Gordon Edes at ESPN Boston
According to a person with direct knowledge, the Twins "have spoken" with the agent for former all-star backstop John Buck. It's unclear at this point what their level of interest is, but a second person with direct knowledge told the Saint Paul Pioneer Press on Tuesday that Buck had climbed to the top of their ravaged board of potential catching targets.
Buck, who is coming off a three-year, $18 million contract, got off to a blazing start at the plate with the New York Mets this season, bashing 10 homers in his first 27 games. However, he slumped to a .285 on-base percentage, his lowest since his rookie year with Kansas City in 2004, and finished the year with Pittsburgh. Buck backed up Russell Martin on the Pirates' first playoff team in 21 years.
Rugged and durable with a strong clubhouse presence, Buck has averaged 16 home runs the past four seasons and has caught at least 915 innings in seven of the past eight years. The exception was in 2009, his final year with Kansas City.
With Friday's signing of catcher J.P. Arencibia in Texas (one year, $1.8 million), the list of available free agent catchers with starting experience has reached the bare bones stage.  Buck, an all-star in 2010 who threw out 30 percent of attempted base stealers this season, is one of the few remaining options.
The Twins also have catchers Ryan Doumit, Chris Herrmann and Eric Fryer on their 40-man roster now that Joe Mauer has moved to first base full time. Buck, meanwhile, has posted an on-base percentage of .311 for his career against lefties and .297 against right-handers. His combined on-base/slugging percentage is 36 points higher against lefties (.727) than righties (.691). Source: Mike Berardino of the Saint Paul Pioneer Press
Even if Rays would trade David Price within AL East, the Yankees likely don't have the right prospects or players to get such a deal done. From: Mark Feinsand at the NewYork Daily News
So they said
"I think this is just the start," said outfielder Michael Saunders, one of Seattle's core of young players. "It's no secret that it's been tough to get free agents to come to Seattle, but hopefully this opens the floodgates and shows others we're ready to win and it can start a trend. It obviously shows how serious Seattle is about winning a championship." Source: Greg Johns at MLB
"It has to be a guy that they can't just sit there and say, 'We don't care, you are going to first base.' That guy could be there in free agency, it could be there in trade, it could be on the team. I am a firm believer that Justin Smoak can do it. He just needs to settle down. You have got to remember that he is a switch-hitter and that is double problems. They talk about Chris Davis; he is Chris Davis. I am not trying to put any pressure on him but he has a good eye and he will hit. He's had four hitting coaches in four years and he is trying to figure it out and trying to please everyone. Just settle down and go out there and have some fun. It's not fun when you are struggling, but it is in there. You don't need a guy who hits home runs behind Cano; you just need a guy who hits." —Ken Griffey, Jr via Shannon Drayer at My Northwest
Toronto GM Alex Anthopoulos says player development is neither simple nor predictable. "I think that's just the way the game works. Very rarely do players' careers go in a linear fashion where they continue to improve every year." Source: Shi Davidi at sportsnet.ca
Baseball (NOT) Best Practice
Despite committing a combined $283 million to three of free agency's biggest prizes over the last two weeks, the Yankees could well miss the playoffs again in 2014, doing so in consecutive seasons for the first time since 1992 and '93. That, or they could abandon their luxury tax plan, a move which would call in to question the decision making behind last off season's thriftiness and the hard-line the team took on Cano. In either case, Beltran, regardless of his performance over the next three seasons, could come to serve as a daily reminder of past decisions gone wrong, an aging version of the player the Yankees should have signed a decade ago. The idea that such a reminder could prompt a long-overdue front-office shake-up in the Yankees' often dysfunctional and seemingly calcified leadership structure, however, seems like wishful thinking. Source: Cliff Corcoran at Sports Illustrated  (That sounds somewhat familiar.)
International
After weeks of discussion, officials from Major League Baseball and Nippon Professional Baseball appear to have reached an agreement on a new system. Here's how the process would work: teams could submit up to $20 million for the right to bid for a posted player such as Tanaka. If multiple teams submit the maximum bid, as they surely would for a frontline arm, the player can solicit offers from all teams over a 30-day period and choose the proposal that suits him best. The process would resemble free agency, with only the winning bidder paying the $20 million fee.
However, the Rakuten Golden Eagles may not post Tanaka, and until MLB teams know whether he will be available and determine his asking price, the market for other top starters will remain hazy. Santana, Garza and Jimenez are free to sign whenever they please, of course, but engaging bidders could be a challenge for now. Potential suitors including the Toronto Blue Jays, New York Yankees and Los Angeles Angels might prefer to wait for clarity on Tanaka's future. Source: Shi Davidi at sportsnet.ca
(Hey! What about the Mariners? We still don't get no respect after spending $240M? I think Tanaka's opinion of Seattle as a suitor might have shifted a bit since yesterday. His price is going to be better than Price's price and the M's should pay it.)
By The Numbers
There has only been 20 qualified seasons of a 1.200+ OPS, and Ruth and Bonds have 11 of them. Thomas owns one. Source: YCPB You Can't Predict Baseball
The Mariners are looking to upgrade an offense that was second in the AL in home runs this year but was 12th in scoring and last in batting average as the club went 71-91. Seattle finished the season having used seven starting position players aged 26 or younger. Source: Greg Johns at MLB
Bob Dutton at The News Tribune asked his readers if they approved of the Cano signing. The response was: Yes. Great move. Team's starting a new era. (66%, 170 Votes)
CBS asked site visitors which reliever they would want to close for their team, results so far from 1,744 respondents:
Craig Kimbrel 46% – Kenley Jansen 7% – Aroldis Chapman 24% – Sergio Romo 4% – Koji Uehara 19%
Yes, with Beltran signed now, the Yankees must be out on Shin-Soo Choo. Rangers, Tigers, Giants, Mariners and  Reds among possible players. From: Jon Heyman at CBS Sports
Baseball Biz
The state of Washington has no personal income tax. New York City has a state and city income tax, which adds up to 12% for high-income earners. Most states with income taxes in place tax professional ball players on the income earned in their state. If they play against a California team they pay a tax of 1/162 of their MLB income per game to California, if they play in Toronto they pay Canadian taxes. Playing 81 games in Washington saves a player 6 percent of their income, (more than the 5 percent most agents get) compared to New York City. This will save Cano $1.4m a year. Roughly half of a professional player's income goes to taxes, agents. accountants, lawyers and personal assistants. There are perks, like getting to write off the cost of using a personal jet airplane as a business expense in many cases.
Alumni News
Yuniesky Betancourt continues drawing interest from multiple teams as a utility player with power according to an industry source. However nothing is imminent as of Friday. Source: Shi Davidi at sportsnet.ca
Time for the San Francisco Giants to look again at Ichiro Suzuki, who hit LHs far better than RHs in '13. Easier to acquire from the Yankees than Gardner. Bochy will tell you he likes Ichiro. They both have the same agent. He makes $6.5M next year, could acquire on the cheap. One of most unforgettable moments in history of San Francisco Giants ballpark: Ichiro's inside-the-park HR in '07 All-Star Game. From: John Shea at the San Francisco Chronicle